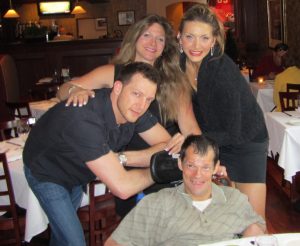 Licensed in Long Term Care, Medicare, Life Insurance and Annuities for 16 years.
Certified Long Term Care specialist.
Licensed to do business in Pennsylvania and New Jersey
Accredited with the New Jersey Partnership plan and Various States.
Previous CEO of Marsant Construction Company and MRN Builders. Current Owner of MORE Builders and NOVEL Construction. For 25 years.
Built and donated a group home for Matheny's Cerebral Palsy School in Somerset NJ.
Did various Pro-bono home renovations for critically ill or handicapped individuals to meet their needs.
Associated with Robert Wood Johnson Hospital, Matheny's Cerebral Palsy School in Peapack, NJ, Adult Day care in Bridgewater and Regency nursing home in Somerset.
Continuously attending accredited courses to keep up to date on all laws and programs affecting seniors and Licensing.
My twin brother Hyman was born with Cerebral Palsy. He's been the greatest influence in my life.
It's always been my nature to want to nurture and take care of others. I have 2 children of my own, and I've had the opportunity to support and guide 11 others for many years. I've been the caregiver and provider for my brother Hyman since we were 19 years old and for my Parkinson stricken father for 15 years. I have recently lost both my Father and my Handicap twin brother 5 weeks apart in 2014.
Keeping your Golden Years Golden
My philosophy is to deal with each person in a caring, selfless, empathetic manner, focusing on the individual's concerns. By looking at situations through each person's perspective, I will understand their individual needs on a personal level, and will be better able to address those needs and set them up for a better future. My clients recognize and appreciate my dedication. Building trust and lasting relationships is the sign of true success.